SETTE NOTE rods in  iron diameter 10 mm.
They are made entirely in our company starting from the raw material, passing through all the production and galvanic processes up to the assembly and packaging.
All the rods in the varnishing phase are treated with non-toxic paints respecting the environment.
Sette Note rods in COLOURED WOOD with an Olive-shaped knob are available in seven colours with a hole for hooking to the window frame by a cylindrical support with screws.
Measurements:
40/60 – 60/80 – 80/100
Other measurements can be made on request with a minimum order of 100 pieces per measure.
Colors:
For the tube: Polished Nickel – Frosted Nickel
For wooden knobs: Walnut – Cherry – Natural ash – Blue – Ivory – Terracotta – Green
Supplied in 1 pc. package
RODS diam. 10 EXTENSIBLE - SETTE NOTE Line
Cylindrical supports nylon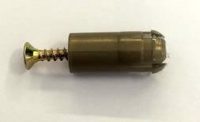 194BOI040
194BOI060
194BOI080
wood: walnut / cherry / natural
194BOIL040
194BOIL060
194BOIL080
wood: blue / green / terracotta
194BON040
194BON060
194BON080
wood: walnut / cherry / natural
194BOINL040
194BOINL060
194BOINL080
wood: blue / green / terracotta