Cylinder rods in  iron diameter 10 mm.
They are made entirely in our company starting from the raw material, passing through all the production and galvanic processes up to the assembly and packaging.
All the rods in the varnishing phase are treated with non-toxic paints respecting the environment.
Cylinder rods are available with a cylindrical knob with a hole for attaching it to the window frame by a cylindrical support with screws.
Measurements:
40/60 – 60/80 – 80/100
Colors:
Brass-plated with transparent anti-oxidation protection – Nickel-plated – Brushed Nickel-plated
RODS diam. 10 EXTENSIBLE - Cylinder Line
Cylindrical supports brass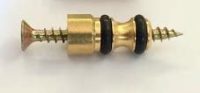 198CIL040/OSPNO
198CIL060/OSPNO
198CIL080/OSPNO