61 are the years of our experience in this sector.
We have been producing accessories for Lamnrequins since 1958, our experience in the sector was born with these classic lambrequin accessories.
We have a wide range of items: in plastic, in iron, in steel and in brass and it is because we have a considerable number of machines that transform the raw materials from the first processing to the finished product, ready for installation.
Our production capacity in this field is wide:
PVC extruded profiles, plastic and iron pliers with a slide of various shapes, hooks for ribbon in various materials and models, brackets, slides, carriers for cords and many others; all you need for the Lambrequin sector.
Some examples:
ALUMINUM PROFILE FOR OUTDOOR SUN CURTAINS
Among with this 5 m long profile. we are able to supply accessories for fixing it to the ceiling, slides, hooks and stops.
PVC PROFILE FOR LAMBREQUINS IN WOOD
With this profile we are able to satisfy every need, from the small hook to the carrier, knobs, brackets of all lengths and colors either reinforced or not, rings, stops and hooks, crossings for central cord movement.
In our general catalog you will find all these accessories.
GIANT track for BALCONIES and accessories
Track for BALCONIES WITH CANAL and Accessories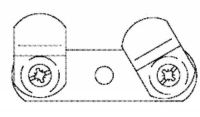 Iron plate for track support
with flaps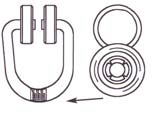 Giant slide in brass with mounted button
SMALL track for Mantovana and Accessories
MANTOVANA and Accessories